By Leslie Lindsay
You may know her from her January 2014 fluid, lyrical debut about a dancer, THE ART OF FALLING.
Her second novel, THE FAR END OF HAPPY (May 2015) takes us on a poignant and emotionally charged glimpse into an unraveling marriage, the sadness draped around the characters like a shroud, and the hope that everything will work out in the end. It's a tough read for the subject matter alone: suicide. But it's the tenderness and compassion Craft brings to the narrative that will have you walking away feeling a strange brew of optimism.
Leslie Lindsay: Welcome, Kathryn. I'm so honored to have you on the blog today. I guess I have to start with the obvious: THE FAR END OF HAPPY is based on an event in your life: your own ex-husband's suicide. What a challenging topic—and how did you decide on the structure of the novel, i.e. why fiction over a memoir?
Kathryn Craft: Hi Leslie, thanks so much for having me here. The answers to the two parts of your question are interrelated. In the seventeen years since my husband died I've drafted a lot of memoir in the form of essays, blog posts, and what I came to think of as chapters. I came to realize, though, that there was no way I could write about my early marriage without the foreknowledge of the standoff to come. I'd think, "Were there clues here?" Once my fiction career powered up I started to think more creatively about a structure that would evoke the way the standoff had seared itself into my consciousness. Constraining story events to its twelve hours seemed the best way.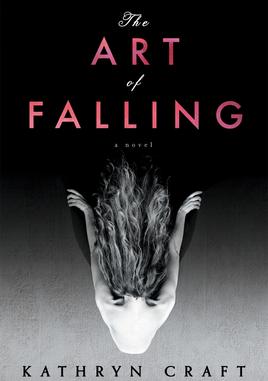 I also came to believe that writing from one point of view would make it seem as if the suicide had happened only to me, which was not my experience. I knew for a fact that many people in my community, even strangers, were deeply affected. These two choices—the twelve hour structure and the three point-of-view characters—planted my feet firmly in the realm of fiction, even though my intent was to seek a greater truth.
L.L.: In the back of the book, you answer some questions about what was really true and what had been fictionalized, including your name. In fact, you maintain that you are *not* Ronnie, yet you are both very much alike. In what ways are you like Ronnie and in what ways do you differ?
Kathryn Craft: Most of the differences have to do with ripple effects that resulted from the way I fictionalized Ronnie and Jeff's source families. Beverly is nothing like my mother—my mother was much too controlling to ever let me take the reins—and I had no lifelong relationship to my husband or his mother, so Ronnie related to these women much differently than I did with their real life counterparts. I fictionalized the mothers so I could force more conflict on the day of the standoff, since achieving believable character arcs for these women within twelve hours was a challenge. Yet doing so felt imperative; the promise of change needed to equal the depth of the loss. I also knew and idolized my father, and was one of five children. Ronnie's and my emotional arc, though, in terms of trying to find a sense of self within a marriage, was one in the same.
L.L.: Suicide is one of those faux-pas topics; you just don't go there. Yet you handle it so sensitively. How might we gain more awareness of this tragic mental health consequence?
Kathryn Craft: Thank you so much Leslie. I had two miscarriages, too, and my mother about died when I needed to talk about them to push through my grief. But you know what? In one such conversation, I found out a good friend of my mother's had suffered five such losses—five!—and my mother never knew. Why did I know? When I shared, this woman opened up to me. At book signings I've had people hold up the line while pouring their hearts out about suicides in their own lives. Holding in all that pain and perceived shame is what causes suicide. We need to talk about those things that have so deeply wounded us. It is not shameful or weak to do so—it is real, and human, and has the potential to bond rather than divide.
Some great resources where you can learn more include To Write Love on Her Arms, the American Foundation for Suicide Prevention, and Take 5 to Save Lives. People who have been entertaining thoughts of self-harm should call the National Suicide Prevention Lifeline at 1-800-273-TALK (8255). Readers, if you would like to add your voice to my #choosethisday initiative on Twitter by posting uplifting quotes and thoughts about what makes you come alive, I'd love to re-tweet what comes through with that hashtag. We may feel unequal to the challenge of helping others. Ill equipped. But it is so much better to have brought all of our human imperfection to the task of trying rather than ignoring.
L.L.: What advice do you have for writers interested in exploring their own truth of an event without offending other parties/family members? And to extend that a bit—how has your own family received the book?
Kathryn Craft: My advice would be to wait to write about the event until you've restored the kind of balanced perspective that will allow you to give each character in the story a relatable goal. Now you're not vilifying, you're exploring relatable conflict. People who write memoirs in order to drag readers through the muck and mire of their existence will not win friends—or, frankly, readers. There is a lot of soul work and healing to accomplish before you can offer up the kind of context a reader seeks from a great story.
As for my family, my sons, now 25 and 27, gracefully and courageously allowed me to base Ronnie's sons on them, and I did so right down to dialogue I recorded in my journals. Both came to the launch party. My older son introduced me and let me tell you, that was a moment of full-circle healing I will never forget. They've both expressed interest in reading The Far End of Happy but I am thrilled to say they live full, vital lives and don't have a lot of spare time for reading right now! One has started the book and it will be there for the other when he's ready. Sadly, my parents will never read any of my novels; my dad died shortly before I got my agent and my mother has dementia. As for my siblings, I've given them a pass on this one. I chose my husband, they didn't. No one wants to go through a suicide and I wouldn't expect them to take it on again, although I do know that one sister is doing so. My husband was an only child and his parents are both gone so I faced no repercussions there.
L.L.: What is obsessing you now and why?
Kathryn Craft: How to step it up for book three. 
L.L.: What are you working on next?
Kathryn Craft: Is it okay to skip this one since I answered the last as I did? Plus this is probably way longer than you'd hoped!
L.L.: Thanks so much for such an illuminating book—and for taking the time to be with us, Kathryn!
Kathryn Craft: Leslie, I sense a soul sister in you—your questions dug deeper than most. Thank you for the opportunity to entertain them.
Kathryn Craft is the author of The Art of Falling and The Far End of Happy. Long a leader in the southeastern Pennsylvania literary scene, she loves any event that brings together readers, books, food and drink, and mentors other writers through workshops and writing retreats. A former dance critic, she has a bachelor's in biology education and a master's in health and physical education from Miami University in Ohio. She lives in Doylestown, Pennsylvania, and spends her summers lakeside in northern New York State.
You can connect with her on Facebook, Twitter:@kcraftwriter, her Website , and Goodreads    . Special thanks to publicist Suzy Missirlian @Suzy4PR for connecting us. Author and cover images courtesy of K. Craft.